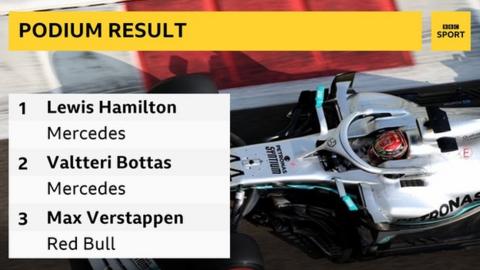 Lewis Hamilton ended his season in style with a superb pole position at the Abu Dhabi Grand Prix.
The world champion, who had not had a pole since the German Grand Prix in late July, beat Mercedes team-mate Valtteri Bottas by 0.194 seconds.
Red Bull's Max Verstappen was third, 0.360secs, as there was yet another foul-up at Ferrari.
Charles Leclerc failed to get across the line in time to start a final lap and seemed to blame team-mate Sebastian Vettel for it.
Leclerc still managed to qualify fourth, one place ahead of Vettel, but the incident is unlikely to improve relations at Ferrari, after the last race in Brazil where the drivers crashed together putting both cars out of the race.
"We are not going to make it," Leclerc said over the radio, after being told earlier in the lap that they were tight on time. "Seb is slowing down."
Red Bull's Alexander Albon took sixth place, with Lando Norris best of the rest in seventh.
Hamilton was thrilled to end his season with a pole – he has admitted that the fact that Bottas had one more than him up to this point was rankling with him
He said: "It has been such a long slog trying to get this pole position and we just kept out head down trying to get it right. Yesterday was quite wobbly so I had to stay focused, but we managed to dial in the car with the engineers.
"It has been a special car so it is great to end the season in style."
Bottas will not be able to challenge Hamilton in the race, because he will start from the back of the grid because of a penalty for using too many engine parts.
The race battle – if there is one – is likely to be between Hamilton and Verstappen, who will start on the front row alongside the Mercedes following Bottas' penalty.
Verstappen said: "Today was the best we could do. Mercedes is quite dominant here. Overall, pretty happy. It is good to start on the front row. Still a lot of chances for the race and we will see what happens."
Ferrari – seriously?
This has been a season characterised by problems at Ferrari, whether errors by the drivers or team, that have handicapped their season.
In the end, this one probably did not affect anything. Ferrari had not looked quick enough to challenge for pole, and Verstappen had also been ahead of Leclerc on the first runs in final qualifying.
And the situation did not favour Vettel because although Leclerc did not get a chance to improve his time, and Vettel did, the German did not improve on his final lap and stayed 0.12secs behind his team-mate.
In truth, the fault this time seemed to lie with the team for sending out Leclerc too late.
The two Ferraris were at the back of a queue of cars, with Hamilton leading Verstappen, Bottas, Albon, Vettel and Leclerc.
All backed up trying to get the optimum starting position for their laps, it seems as if Leclerc was just the unfortunate victim of that.
More to follow